2015 Anglers of the Year Standings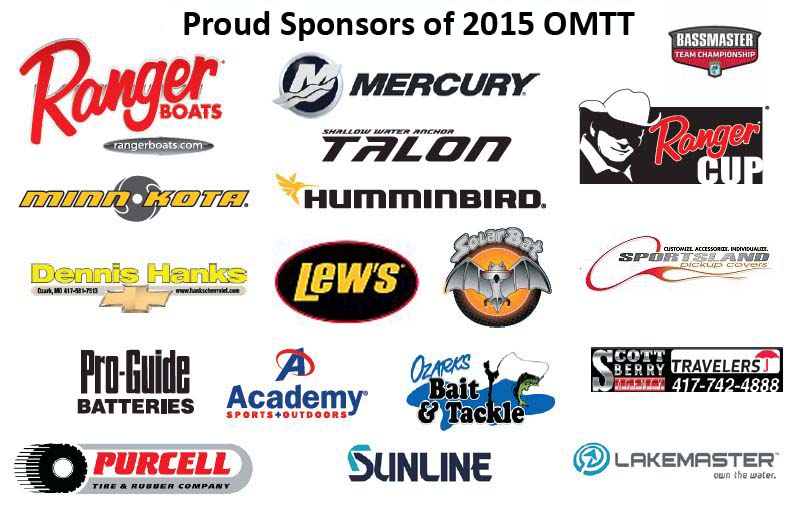 | | | | | | | | | | | |
| --- | --- | --- | --- | --- | --- | --- | --- | --- | --- | --- |
| PLACE | TEAM | TEAM | TEAM | TEAM | Alternate | LOZ | TR | ST | BS | TOTAL |
| 1 | KELLY | POWER | MARK | WIESE | * | 194.32 | 154.60 | 132.27 | 163.39 | 644.58 |
| 2 | JOSH | BUSBY | TIM | TAYLOR | | 147.76 | 158.90 | 148.13 | 172.94 | 627.73 |
| 3 | WESLEY | ROGERS | LEON | TIPTON | | 59.00 | 176.66 | 191.00 | 144.71 | 571.37 |
| 4 | RANDALL | HUTSON | MARJORIE | STERLING | | 92.21 | 193.16 | 173.85 | 109.33 | 568.55 |
| 5 | JOHNNY | ROBINSON | JAMIE | JOINER | * | 136.79 | 187.21 | 109.56 | 126.49 | 560.05 |
| 6 | DAN | BRUEGGEMANN | MARTY | BOHLKE JR. | * | 188.40 | 126.05 | 106.33 | 121.82 | 542.60 |
| 7 | JAY | HULSEY | KYLE | HULSEY | * | 171.77 | 119.57 | 108.38 | 110.50 | 510.22 |
| 8 | BRANDON | RUMMELL | RON | RUMMELL | | 114.51 | 106.51 | 107.37 | 178.15 | 506.54 |
| 9 | CHRIS | HUGHES | KIRK | SIMS | * | 91.15 | 163.27 | 130.05 | 117.73 | 502.20 |
| 10 | DAVID | SPICER | JAMIE | CONRAD | * | 176.95 | 102.36 | 121.54 | 88.32 | 489.17 |
| 11 | DANNY | BURNS | ED | YOUNG | | 167.70 | 99.22 | 92.68 | 125.46 | 485.06 |
| 12 | LEFTY | EVANS | MARTY | CONRAD | | 107.74 | 182.02 | 94.77 | 98.97 | 483.50 |
| 13 | ASHLEY | MEDLEY | SCOTT | CLIFT | | 144.35 | 123.85 | 60.00 | 151.07 | 479.27 |
| 14 | MAX | ATKINSON | SHANE | PATRICK | | 88.14 | 112.94 | 115.07 | 155.14 | 471.29 |
| 15 | TOM | STATLER | BRETT | GROETEKE | | 131.22 | 122.75 | 85.43 | 131.04 | 470.44 |
| 16 | GREG | WOOD | WES | ENDICOTT | | 59.00 | 104.45 | 144.94 | 159.31 | 467.70 |
| 17 | MIKE | WEBB | STEVE | BOILLOT | | 84.15 | 117.45 | 135.37 | 128.95 | 465.92 |
| 18 | ALAN | QUICK | MARCUS | SHERMAN | | 133.49 | 84.27 | 138.86 | 108.27 | 464.89 |
| 19 | BILL | BREWER JR | BRUCE | ROUGHT | * | 119.33 | 118.56 | 123.61 | 101.84 | 463.34 |
| 20 | BRENT | ALGEO | JIM | COPELAND | | 95.46 | 128.22 | 101.03 | 135.41 | 460.12 |
| 21 | GARY | MARTIN | DENVER | MARTIN | * | 61.26 | 167.37 | 110.62 | 120.63 | 459.88 |
| 22 | BUTCH | STILL | DONNA | STILL | | 115.64 | 100.23 | 75.68 | 167.84 | 459.39 |
| 23 | STEVEN | LACKEY | GARY | POHLMANN | * | 105.63 | 121.61 | 120.53 | 106.01 | 453.78 |
| 24 | RICK | JOHNSTON | JOE | BRANTLEY | | 128.67 | 94.92 | 99.94 | 126.49 | 450.02 |
| 25 | RUSS | FRANKLIN | DAVID | WESTMORELAND | * | 159.11 | 101.29 | 104.24 | 83.00 | 447.64 |
| 26 | TIM | FLEETWOOD | DUSTIN | BACK | | 101.17 | 103.43 | 125.74 | 116.70 | 447.04 |
| 27 | JIMMY | DAVIS | MARTY | DAVIS | | 59.00 | 132.35 | 168.83 | 83.00 | 443.18 |
| 28 | TIM | SHERRILL | SCOTT | BOAZ | | 93.39 | 137.39 | 87.50 | 124.44 | 442.72 |
| 29 | JUSTIN | HAYDEN | KRIS | NELSON | | 87.10 | 98.08 | 160.37 | 89.41 | 434.96 |
| 30 | GREG | WILMOTH | KATHY | GARRISON | | 123.89 | 68.20 | 103.23 | 138.60 | 433.92 |
| 32 | JERRY | ROARK | JAMIE | EDGE | | 70.08 | 69.90 | 128.01 | 147.93 | 415.92 |
| 33 | JOSH | TATE | JAMES | RANTZ | * | 59.00 | 105.48 | 164.69 | 83.00 | 412.17 |
| 34 | RYAN | PATTERSON | JASON | PARSONS | * | 83.01 | 120.58 | 84.41 | 119.22 | 407.22 |
| 35 | HOWARD | MCCALLISTER | ANDY | EUTSLER | | 140.63 | 84.27 | 78.86 | 103.17 | 406.93 |
| 36 | LANE | SHUMAKER | PETE | WENNERS | * | 106.70 | 91.62 | 118.39 | 85.86 | 402.57 |
| 37 | KEVIN | DICKEY | KEVIN | MCCLELLAN | | 98.90 | 89.54 | 96.84 | 115.59 | 400.87 |
| 38 | MARK | FANN | MIKE | FANN | * | 72.44 | 78.72 | 152.34 | 91.74 | 395.24 |
| 39 | RICK | SCARBERRY | RICH | GAMBLE | | 89.45 | 77.71 | 116.29 | 109.33 | 392.78 |
| 40 | JOE | DOUGLAS | PAUL | ANGELAKOS | * | 97.79 | 101.29 | 81.26 | 111.53 | 391.87 |
| 41 | DAVE | MOON | JOHN | SETZER | | 75.93 | 110.87 | 117.37 | 86.87 | 391.04 |
| 42 | BILL | WILCOX | RICH | EDER | * | 59.00 | 143.43 | 83.40 | 104.91 | 390.74 |
| 43 | RICK | LAPOINT | LENDALL | MORRIS | * | 118.27 | 90.58 | 90.62 | 83.00 | 382.47 |
| 44 | GARY | SHARTZER | JOHN | SHARTZER | * | 109.11 | 88.39 | 178.96 | 0.00 | 376.46 |
| 45 | KEVIN | JACKSON | BRYAN | JACKSON | * | 100.11 | 52.11 | 119.41 | 100.26 | 371.89 |
| 46 | BILLY | ELBERT | JON | LECRONE | * | 86.08 | 76.60 | 112.81 | 95.59 | 371.08 |
| 47 | ADAM | SMITH | MIKE | DULLEA | | 65.66 | 100.23 | 113.87 | 90.55 | 370.31 |
| 31 | EARL | ERBY | SHERMAN | SUTTERFIELD | * | 0.00 | 101.60 | 184.07 | 83.00 | 368.67 |
| 48 | KENNY | GARRISON | CLINT | HALE | | 59.00 | 49.00 | 105.31 | 155.14 | 368.45 |
| 49 | CURT | GRAVES | MARK | DIAZ | | 68.03 | 114.11 | 102.11 | 83.00 | 367.25 |
| 50 | MIKE | LUCAS | BOBBY | LOYD | * | 120.43 | 96.00 | 141.92 | 0.00 | 358.35 |
| 51 | GUY | WICKERSHAM | GARY | DANIEL | | 59.00 | 85.33 | 91.63 | 113.16 | 349.12 |
| 52 | TERRY | PRALL | DAN | MORTON | | 79.79 | 73.34 | 98.93 | 92.75 | 344.81 |
| 53 | BRANDON | ROBBINS | JASON | ROBBINS | | 78.19 | 92.70 | 89.61 | 83.00 | 343.50 |
| 54 | MATT | CALTON | ANDREW | CALTON | | 80.97 | 97.03 | 74.03 | 83.00 | 335.03 |
| 55 | ROGER | SATTERFIELD | MIKE | LAMPHEAR | * | 0.00 | 140.40 | 0.00 | 191.89 | 332.29 |
| 56 | RICK | HOLT | JOE | WHELAN | | 63.31 | 71.18 | 111.75 | 83.00 | 329.24 |
| 57 | JOHN | SHUMWAY | CHRIS | JEFFERY | * | 154.84 | 111.92 | 60.00 | 0.00 | 326.76 |
| 58 | MARK | BILLINGS | TYLER | MATLOCK | * | 59.00 | 72.22 | 60.00 | 133.28 | 324.50 |
| 59 | JIM | LOVAN | JIM | DAVIDSON | * | 59.00 | 93.86 | 60.00 | 107.09 | 319.95 |
| 60 | GERALD | MCDANIEL | JEFF | PASCOE | | 59.00 | 65.09 | 95.81 | 97.75 | 317.65 |
| 61 | WES | DARNELL | LARRY | LEAVITT | * | 59.00 | 83.25 | 73.00 | 94.58 | 309.83 |
| 62 | JASON | NEWBERRY | RYAN | GROETEKE | | 103.52 | 107.55 | 97.88 | 0.00 | 308.95 |
| 63 | SHANE | WILLIAMS | SHAWN | WILLIAMS | | 59.00 | 55.34 | 70.80 | 114.32 | 299.46 |
| 64 | ROY | ROBERTS | CHRIS | ROBERTS | | 0.00 | 115.17 | 76.71 | 83.00 | 274.88 |
| 65 | ROGER | HACKMAN | JAMES | HENSLEY | * | 59.00 | 108.58 | 79.90 | 0.00 | 247.48 |
| 66 | DAVID | BURKS | DANNY | COLLIER | | 150.81 | 87.37 | 0.00 | 0.00 | 238.18 |
| 67 | KURT | PARKER | GARY | HAZELL | * | 126.17 | 109.81 | 0.00 | 0.00 | 235.98 |
| 68 | JEFFREY | BARRICKMAN | COLE | FINDLEY | * | 81.97 | 134.37 | 0.00 | 0.00 | 216.34 |
| 69 | JASON | CLINES | SCOTT | HILL | * | 71.28 | 49.00 | 93.69 | 0.00 | 213.97 |
| 70 | TIM | KIRLIN | GREG | DEGASE | * | 59.00 | 81.06 | 65.27 | 0.00 | 205.33 |
| 71 | JOSH | WRAY | KEVIN | MAYBEE | | 73.68 | 130.30 | 0.00 | 0.00 | 203.98 |
| 72 | STEVE | CURTIS | HEATHER | CURTIS | | 59.00 | 59.80 | 77.78 | 0.00 | 196.58 |
| 73 | JERRY | JAMES | DARRYL | KNACKSTEDT | * | 59.00 | 66.12 | 69.49 | 0.00 | 194.61 |
| 74 | GAYLE | JULIAN | LYNDALL | HELMS | | 0.00 | 0.00 | 0.00 | 184.98 | 184.98 |
| 75 | RANDY | TERRELL | DALE | BURGMAN | | 183.34 | 0.00 | 0.00 | 0.00 | 183.34 |
| 76 | BOBBY | ALBERT | AUTUMN | ALBERT | * | 0.00 | 74.53 | 108.48 | 0.00 | 183.01 |
| 77 | BRIAN | HERNDON | SAM | WORKMAN | | 0.00 | 171.53 | 0.00 | 0.00 | 171.53 |
| 78 | MARK | TUCKER | RON | SEABAUGH | | 163.15 | 0.00 | 0.00 | 0.00 | 163.15 |
| 79 | ROBERT | SHACKLEFORD | FLOYD | ROSS | | 0.00 | 0.00 | 156.36 | 0.00 | 156.36 |
| 80 | DANNY | LOVELAND | JAY | MARSHALL | | 0.00 | 150.34 | 0.00 | 0.00 | 150.34 |
| 81 | LARRY "DOC" | SEGER | JEFF | MCCLINTOCK | | 0.00 | 146.92 | 0.00 | 0.00 | 146.92 |
| 82 | ERIC | TOLLIVER | ZACH | LAWRENCE | | 0.00 | 0.00 | 0.00 | 141.64 | 141.64 |
| 83 | DUSTIN | BLEVINS | AARON | HODGE | | 0.00 | 0.00 | 0.00 | 123.17 | 123.17 |
| 84 | JIM | STAMPER | JOE | HODGES | | 121.87 | 0.00 | 0.00 | 0.00 | 121.87 |
| 85 | JON | MESSBARGER | CARLA | MESSBARGER | | 64.45 | 57.12 | 0.00 | 0.00 | 121.57 |
| | ROBERT NEIL | HATCHER | LEO | ELISER | | 0.00 | 61.37 | 60.00 | 0.00 | 121.37 |
| 86 | CHACE | CROWE | BRITTANY | CROWE | | 59.00 | 0.00 | 60.00 | 0.00 | 119.00 |
| 87 | JASON | WEAST | EDDIE | BRUHAN | | 0.00 | 0.00 | 117.37 | 0.00 | 117.37 |
| 88 | SHAWN | KOWAL | MIKE | HILL | | 117.20 | 0.00 | 0.00 | 0.00 | 117.20 |
| 89 | JAMES | DILL | JOHN | SAPPER | | 113.34 | 0.00 | 0.00 | 0.00 | 113.34 |
| 90 | MARTY | MCGINNIS | KYLE | MCGINNIS | | 112.30 | 0.00 | 0.00 | 0.00 | 112.30 |
| 91 | J.P. | SELL | ANDREW | SELL | | 59.00 | 53.13 | 0.00 | 0.00 | 112.13 |
| 92 | BOB | RICHARDSON | BOB | WILSON | | 111.29 | 0.00 | 0.00 | 0.00 | 111.29 |
| 93 | RICK | KRASSINGER | DAVID | BECKER | | 110.14 | 0.00 | 0.00 | 0.00 | 110.14 |
| 94 | MATT | BECKLER | CODY | MCDANIEL | | 104.56 | 0.00 | 0.00 | 0.00 | 104.56 |
| 95 | CHRIS | SHORE | PATRICK | MIDDENDORF | | 102.32 | 0.00 | 0.00 | 0.00 | 102.32 |
| 96 | DENNIS | BEREHORST | ROGER | FITZPATRICK | | 96.50 | 0.00 | 0.00 | 0.00 | 96.50 |
| 97 | KEN | GROSS | DENNIS | MEYER | | 94.41 | 0.00 | 0.00 | 0.00 | 94.41 |
| 98 | JUSTIN | DELK | STACEY | HOLLAND | | 0.00 | 0.00 | 86.44 | 0.00 | 86.44 |
| 99 | DON | MIDDLETON | JIM | MARTIN | | 0.00 | 86.37 | 0.00 | 0.00 | 86.37 |
| 100 | DYLAN | PIERCE | CODY | HILLIKER | | 0.00 | 0.00 | 0.00 | 83.00 | 83.00 |
| | RON | WEISS | LARRY | DICKEY | | 0.00 | 0.00 | 0.00 | 83.00 | 83.00 |
| | DAVE | CRISENBERY | KEITH | HANNAFORD | | 0.00 | 0.00 | 0.00 | 83.00 | 83.00 |
| 101 | ROBERT | COWAN | JESSE | TATE | | 0.00 | 0.00 | 82.38 | 0.00 | 82.38 |
| 102 | BILL | CHESTER | BOB | SIMMONS | | 0.00 | 82.22 | 0.00 | 0.00 | 82.22 |
| 103 | RANDY | YORK | TREVOR | YORK | | 0.00 | 80.01 | 0.00 | 0.00 | 80.01 |
| 104 | STEVE | ORTIZ | SCOTT | MELTON | | 77.17 | 0.00 | 0.00 | 0.00 | 77.17 |
| 105 | DONOVAN | HENSLEY | BILL | GADDIS | | 0.00 | 75.56 | 0.00 | 0.00 | 75.56 |
| 106 | JOHN | RUSSELL | MIKE | SHRUM | | 0.00 | 0.00 | 71.87 | 0.00 | 71.87 |
| 107 | TONY | SPINKS | CODY | SPINKS | | 66.69 | 0.00 | 0.00 | 0.00 | 66.69 |
| 108 | STEVEN | CLARK | JASON | BRAGG | | 0.00 | 62.61 | 0.00 | 0.00 | 62.61 |
| 109 | DUSTY | RICHARDSON | BRAD | RICHARDSON | | 0.00 | 0.00 | 60.00 | 0.00 | 60.00 |
| 110 | TERRY | BLANKENSHIP | MIKE | MALONE | | 59.00 | 0.00 | 0.00 | 0.00 | 59.00 |
| | MARTIN | BOHLKE SR. | MARTY | BOHLKE JR. | * | 59.00 | 0.00 | 0.00 | 0.00 | 59.00 |
| | SCOTT | DANEK JR | JASON | MOPPIN | | 59.00 | 0.00 | 0.00 | 0.00 | 59.00 |
| | MARK | DUNBAR | ANDRE | DICKNEITE | | 59.00 | 0.00 | 0.00 | 0.00 | 59.00 |
| | JR | ISOM | BRYAN | BUDDE | | 59.00 | 0.00 | 0.00 | 0.00 | 59.00 |
| | JUSTIN | PACE | JIM | FRANKLIN | | 59.00 | 0.00 | 0.00 | 0.00 | 59.00 |
| | DOUG | SCHILLING | DARIN | LANKFORD | | 59.00 | 0.00 | 0.00 | 0.00 | 59.00 |
| | JOHN | TAYLOR | KOBY | ASBERRY | | 59.00 | 0.00 | 0.00 | 0.00 | 59.00 |
| 111 | BOB | FALL | ADAM | FALL | | 0.00 | 49.00 | 0.00 | 0.00 | 49.00 |
*Top 50 teams qualify for OMTT Championship
*Any team fishing all 4 qualifying events qualifies for OMTT Championship
*Bassmaster Team Championship qualification of based on OMTT AOY points standings and total memberships throughout 2015. For every 50 teams 1 team qualifies.
**There was a formula error found on the Table Rock Tournament for places 41st down that was addressed on 5-17-15.